Beef Lasagna - A dish made with layers of beef mince, white sauce, lasagna sheets and lots of cheese and then baked in oven is extremely delicious and is loved by all. Its highly nutritious and full of minerals and vitamins which are really helpful for kids in growing age. Try it at home and enjoy.
Ingredients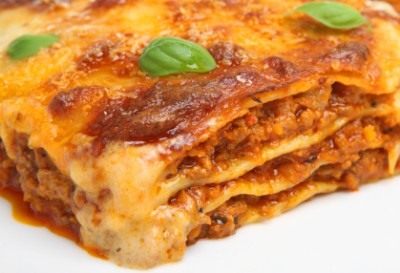 Beef mince ½ kg

Lasagna sheet ½ pack

Ginger garlic paste 2 tbsp

Capsicum 1

Onion 1

Tomato 1

Parsley ¼ bunch

Tomato puree 1 cup

Rosemary ½ tsp

Oregano ½ tsp

Black pepper ½ tsp

White pepper ½ tsp

Salt to taste

Oil 3 tbsp

For White Sauce:

Oil ¾ cup

Flour 4 tbsp

Milk ½ kg

Oregano ½ tsp

Rosemary ½ tsp

Salt to taste

Black pepper ½ tsp

Cheddar cheese 2 slices

Mozzarella cheese 1 pack

Tomato 2
Boil lasagna sheets. And keep them in cool water after boiling. So that sheets will not tear and will not stick to each other.

Sauté ginger garlic paste in a pan and add mince to it and half cup water.

Cook till meat changes its color and water gets dried.

Add oregano, rosemary, salt, black pepper and white pepper and mix well.

Finely slice and then chop capsicum, onion and tomato.

Add tomato puree to the mince and braise.

Add vegetables and mix.

Cook for a while but do not over cook. Vegetable should remain little crunchy.

For sauce, in oil add flour and cook on low heat. Keep stirring.

Cook till bubbles start appearing. Then remove from flame.

Chop parsley finely.

Boil milk and then slowly add flour mixture into it and keep stirring continuously. Add flour according to required consistency.

Add oregano, rosemary, salt, black pepper and parsley into milk and mix well.

Add cheddar cheese to the milk and mix well.

In an oven proof serving tray, place lasagna sheets and then place mince.

Drizzle white sauce on mince. Again place lasagna sheet, then mince then white sauce.

Then take very thin slices of tomato and spread on the top.

Grate mozzarella cheese and sprinkle over the tomatoes.

Place the tray in oven and bake till cheese melts completely and get light golden brown.

Serve hot and enjoy.