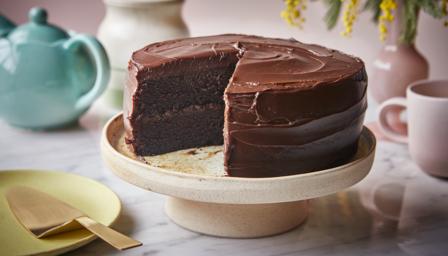 It's always a good idea to have an easy and basic chocolate cake recipe in your back pocket. You just never know when you'll need to bake one…
- last minute birthday with friends or at work
- dinner gathering
- picnic
The reasons are endless and sometimes you don't even need a reason to bake a cake! The intoxicating smell of baked chocolaty goodness is good enough for me.
This cake is so light, sweet and pillows. Please add to your recipe box. It won't disappoint!
3/4 cup unrefined cane sugar
1/2 cup whole wheat all-purpose flour. Plus 6 tablespoons
3 tablespoons baking cocoa
3/4 teaspoon baking powder
1/2 teaspoon baking soda
1 pinch of sea salt
1 egg
1/2 cup 1% or nonfat milk
1/4 cup canola oil
1 1/4 teaspoons vanilla extract
1/2 cup hot water
Preheat oven to 350 degrees. Lightly oil a (9-inch) baking pan with cooking spray and set aside.
In a large bowl, combine sugar, flour, baking cocoa, baking powder, baking soda and salt. In a second large bowl, whisk together egg, milk, oil and vanilla.

Add egg-milk mixture to flour mixture and beat for 2 minutes. Whisk in water and then pour batter into prepared pan.
Bake until a toothpick inserted in the middle comes out clean, 40 to 45 minutes. Set aside to let cool for 15 minutes, then serve warm or remove from pan and let cool completely on a wire rack.